Many people in the cryptocurrency community are extremely anti-establishment, and believe that many cryptocurrencies such as the privacy-focused ZCash (ZEC-USD), the contract-focused Ethereum (ETH-USD), and the "daddy of them all" Bitcoin (BTC-USD) will eventually make fiat currencies obsolete.
As we saw in the crypto bull market of 2017 however, many big banks such as Citi Bank (NYSE:C) and Goldman Sachs (NYSE:GS) have been doubling down on cryptocurrency by investing in a bank-backed coin known as Ripple (XRP-USD).
Ripple, or as its critics call it, the "banker coin," has a history of causing controversy… and while this controversy may be legitimate or simply meaningless drama, the coin isn't looking too bullish.
Descending Trendline
After Ripple topped out at nearly $3.30 on the first of January, we saw it lose over 80% of its value in just under a month. This begs the question, then – are we bound to see losses like this any time soon, or has the cryptocurrency shrugged off its bearish tendencies?
One bullish sign that Ripple has shown is its recent breakout of a descending trendline. On April 12th, roughly one month ago, the cryptocurrency broke out of a descending trendline that had kept it in a bear market for nearly four months. See the image below.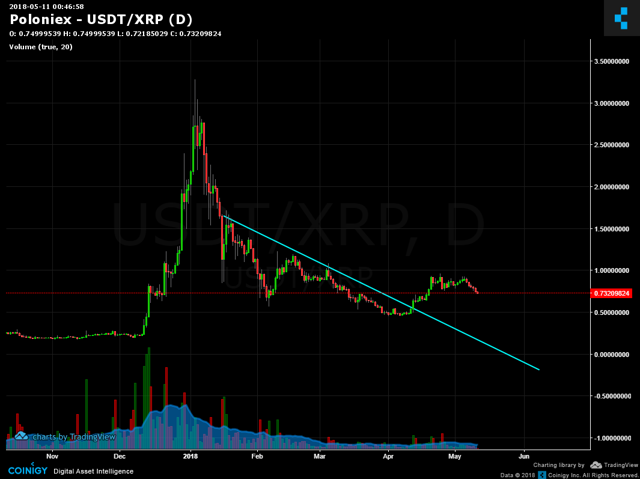 Source: Coinigy
Many were convinced that Ripple was destined for a surge after this breakout, but despite this the banker-backed cryptocurrency doesn't seem very bullish.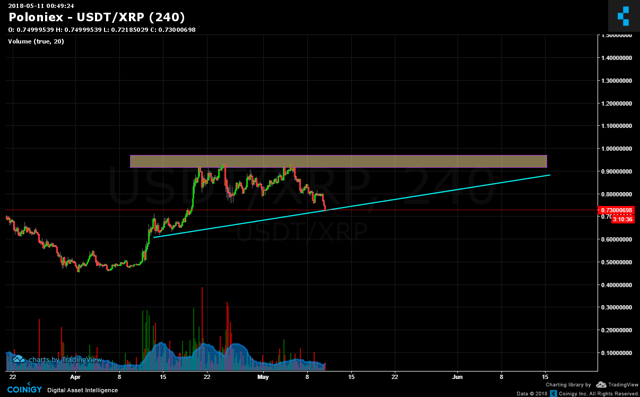 Source: Coinigy
It's encountered stark resistance at the $1.00 mark which it's tried to break through several times, and while this may be indicative of an ascending triangle, preliminary analysis shows it to be bearish.
Stochastic RSI Analysis
While the resistance at $1.00 may appear bearish, the stochastic RSI analysis isn't quite as gloomy. When looking at multiple time frames, it seems that Ripple may be due for at least a small rally.
Looking at the picture below, we see the Stochastic RSI looks fairly bullish. The Stochastic RSI, which measures the relative lows and highs of an asset's price, portrays that we're long overdue for a…