Tron will leave Ethereum's blockchain technology (ERC20) behind as this month ends and will become entirely independent. Then their tokens will also migrate on June 25th once Tron's Main Net is thoroughly tested. At that point, Tron's TRX won't rely on ERC-20 at all.
Tron's CEO and founder, Mr. Justin Sun, started a countdown regarding the event. It's been embraced by the crypto community and has brought Tron new attention, partners and listings the world over. So far, more than ten global exchanges have declared to support Tron's migration (Binance included).
Tron's team has made a point of keeping their community updated by creating a newsletter that they published recently, and no one else but Justin Sun himself authorized that.
The letter detailed all about the new upgrade process and the launch's schedule. It even included previously unavailable information about a virtual machine that will come online six days before the net release.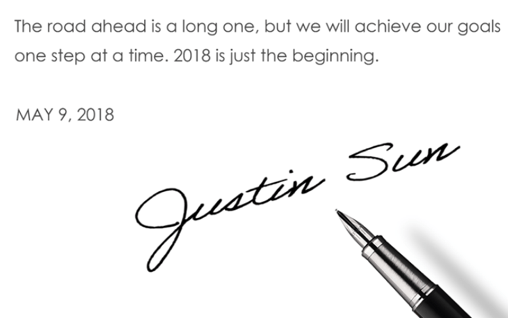 Mr. Sun announced that TronVM v.0.1 is going to be released on May 25th, and he stated how excited he and the whole team are about this (they are not alone, the entire crypto-world is excited!). The new virtual machine will allow the old Tron dapps built for Ethereum initially, to work on the new Main Net without problems.
There are adapters that developers can make use of to migrate their apps smoothly from Ethereum to Tron. The VM is a run-time environment capable of creating smart contracts and carrying out transactions using Tron's new blockchain. A reward program was also announced for developers who move from Ethereum network to Tron.
On the last weekend, May 12th, Tron tweeted regarding the update by posting:
The whole Tron team is hoping for a…